Hip-hop legend Kool G Rap has just turned 43 and whilst speaking to SOHH.com, he said that if he could make a rap supergroup, it'd consist of himself, Jay-Z, Nas and Eminem.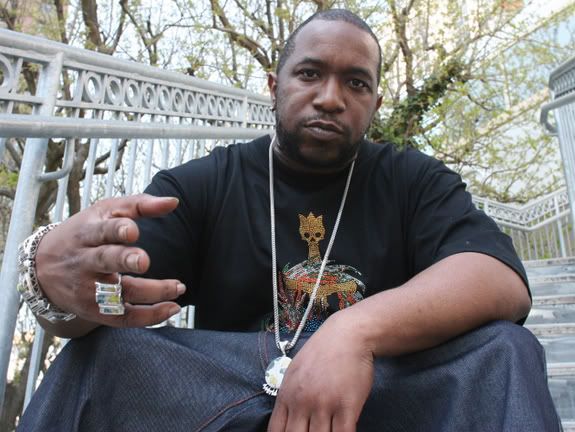 Em himself has said that Kool G Rap was a big influence on him and, being that he grew up in the time that he did, that's to be expected. Em drew a lot of influence from all over the spectrum though so Kool G certainly wasn't a sole or lone influence on Em, but he was no doubt, a very big one.
Elaborating on choosing Em for his fantasy hip-hop supergroup, he said this…
I can't ignore the fact that that boy Eminem is incredible. He's lyrically incredible. Anybody that's ever sat and fronted on this dude's talent is like, come on, man. Stop playing me. I'm a hip-hop nemesis and even I can't ignore the dude's talent level.
And this…
I think Eminem has shown and proved enough that he deserves a spot in the category of legendary lyricists including myself.
It's great to see Em getting some potent, well-deserved respect from such a hugely respected lyricist and figure within the hip-hop world. It's quite strange to see this recent rush of respect and talk about Em in the last few years, it's kind of come out of nowhere. I mean, almost immediately after coming out he was touted as a genius and one of the greats, but only in the last two or three years have we seen this very public display of respect from a lot of big rappers for him.
With respects to newer rappers, it's of course due to the fact that… the ones that were influenced by Em are now adults. And when Em was in his prime, they were still unknowns, and kids. So, we're literally seeing the generation of rappers that Em influenced, growing up around us and giving him props, one by one. Which is quite weird. As Em always feels, new. In some strange way.
Rakim has also made clear he thinks Em is one of the greatest, even going as far as to say if Em was black he'd be Ali. So whilst most say if Em was black, he'd be considered average, Rakim: who is considered by many to be the most influential MC of all-time, went the opposite direction and suggested if Em was black he'd be considered even greater. And I absolutely, completely agree and am so glad such a legend sees it that way. As it makes people eat their words.
I agree with Kool G in choosing Nas but, no Jay-Z please. I don't really need anymore raps about swagger and champagne cuddled by annoying self-affirming grunts.