Here's a pic of Em, Royce and Bruno Mars on the set: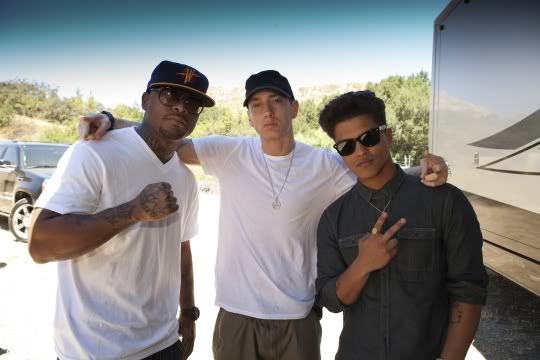 This is the song that flat-out ruined the EP but it's obviously no surprise that a video is being made for it. As, this song was MADE to have a video, as it was made to be a commercial hit.
I understand the politics and business of major labels and the need to generate mass interest in some way but… it's just disappointing that they have to resort to slapping an arbitrary pop singer on a hook, rather than thinking of a more creative way to make a connection.
I mean, rather than just going through the motions or accepting 'this is how a hit should be done' – why not think BIGGER? think BIG like the old Em used to. Don't just accept convention, go against it and create your own form of a hit. Given Eminem's name and cache, and especially of late again… anything he does will get automatic attention anyway and he's already earned his stripes in the history books, so it's such a wasted opportunity to really experiment with format and ideas. Instead, we get this.
It's also annoying as it gives stupid Em detractors who don't actually properly pay attention to what he does another reason to claim he's 'sold-out' for working with a pop figure for the sake of it. Oh well, let's get this out the way and get back to real music. The EP would of been PERFECT without this song.