Take a look at this brilliant portrait of Em, done with salt!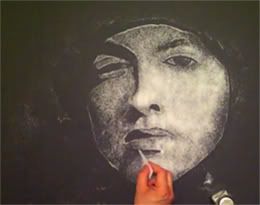 I normally don't post arbitrary things like this as, well, there's an abundance of this kind of stuff online. But not all of them are this good, so every now and then something like this deserves a little discussion.
Not that there's much to discuss haha. I mean, outside of the initial admiration of the saltrait (can I coin that?) itself, there's not much left to say. It is good though isn't it. And, I'm always amazed at how people online produce endless conversation and debate out of basically nothing.
I'm gonna make this into a regular post series actually, 'Shady Art'. Yeah, that's now a new category. It won't be very often obviously, but if any of you reading this happen to have created some brilliant art surrounding Eminem, feel free to post a link to the uploaded image as a comment and I'll pick the best ones for inclusion in future posts. No time limit.